Sunday Schedule


9:15 am - in person service
11:00 am - in person or online
Children's Celebration grades K-5
12:00-2 pm -youth group - grades 6-12



wednesday schedule



12:15 - Meditation service
Sunday Livestream Viewers - We value you input regarding Music Director Candidates. This Sunday, David Rosenblad will be our guest musician and candidate for the Music Director Position. After you have watched the Live Stream on Sunday, please click the link below to provide your feedback.
Donate using BREEZE or
Donate using PayPal
As of 04/07/2022:
For Children: Vaccinated and Nonvaccinated - mask optional in the classroom, In foyer and sanctuary - masks required for non-vaccinated
For Adults:
Vaccinated attendees: Masks are optional. Please present your vaccine record the first time you attend, if you are vaccinated.
Unvaccinated attendees: Masks are required. Special seating is available in the Sanctuary.
Our facility is thoroughly cleaned each week.
We are an empowering community that lifts one another up on our spiritual journey together. We are open and affirming, welcoming all who join us in this journey of faith. Unity of New Braunfels follows the teachings of our wayshower, Jesus. We honor the spiritual path of other religions knowing that though we may be on a different journey, we all embrace the Divine Light in each of us.
Join us in expanding your spiritual enrichment. We offer many classes and events throughout the year.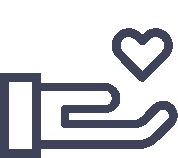 "Give, and it shall be given unto you; good measure, pressed down, and shaken together, and running over, shall men give into your bosom. For with the same measure that ye mete withal it shall be measured to you again."
Stay informed and inspired with our weekly newsletter. Subscribers will receive two emails on Thursdays. One is the newsletter, the other is the links to all Zoom meetings for the next week.
U.S. Calls:
5 a.m. to 1 a.m. (CT), 3 a.m. to 11 p.m. (PT)
1-816-969-2000
International:
10 a.m. to 1 a.m. (GMT)
01-816-969-2000
​